Layer Styles CD (Volume 1)
1,000 Assorted Layer Styles for Photoshop 7, CS, CS2, CS3 & CS4 (Windows & MAC compatible).
Grid Styles, Metal Styles, Oil Paint, Gels, Polka-Dots, Woods, Gradients, Stones, Surface Textures & more. Comes with a full-color PDF catalog with examples of the Layer Styles and Layer Style sets.
Here are just a few examples of what you'll find on the CD:
Metal Styles:
All files on the CD can be used within the standard Photoshop environment. No additional plugins needed. All files are well organized into sets, which makes loading them into Photoshop much easier. Great for all Photoshop user levels: from Beginner to Advanced.
Colorchrome Styles: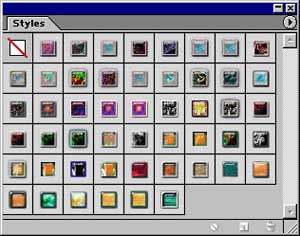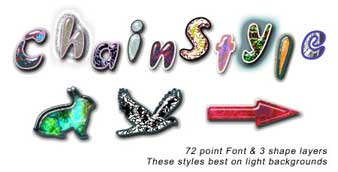 Liquid Color Gel Styles: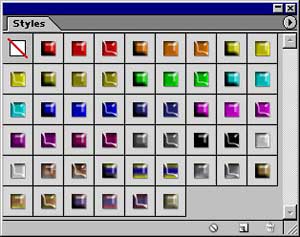 Animal Skin Styles: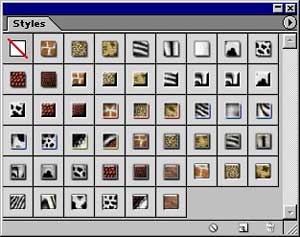 What's Included?
50 Animal Skin Styles *
100 Colorchrome Styles *
100 Dream Sequence Styles *
50 Grids & Pipe Styles *
50 Map Styles *
50 Metal Styles *
50 Oil Paint Styles *
50 Polka-Dot Styles *
50 Surface Texture Styles *
50 Gradient Gel Styles *
50 Liquid Gel Styles *
50 Soft Color Gel Styles *
50 Chiselled Rock Styles *
100 Stone Styles *
100 Wood Styles *
50 Woodcut (Bevelled) Styles *
25-page Full-color PDF Catalog
65-page Full-color PDF Guide to using Photoshop Add-On files.
*
These files were previously sold on my "Complete Collection CD"
Price: $15.00