DIRECT DOWNLOAD PRODUCTS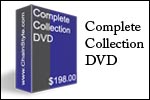 Below you will find a comprehensive listing of all my downloadable products. All products I create are both Windows and Mac compatible.
If you would prefer to order my products via CD or DVD, I offer a few bundle packages which can be found on my CD/DVD Products page.
To view information about each download product, click on the links below.
View the FAQ Page for answers to common questions.
COLOUR TOOLS
Colour Toolbox
A collection of 125 Color Table Libraries, 169 Gradients, and 25 Curves that can be used in any Photoshop project. Great for Photographers and Graphic Designers. For Photoshop 6, 7, CS, CS2, CS3 & CS4
Gradients (Set 1)
A collection of 1,000 Noise, Monochrome, Transparent, Metallic, Pastel, Earth-Tones, Intense and Soft Color Gradients for Photoshop 6, 7, CS, CS2, CS3 & CS4
PATTERN GENERATOR ACTIONS
Pattern Generator Actions (Set 1)
A collection of 424 Actions which create 1,440 pattern variations out of a single source image. For Photoshop 6, 7, CS, CS2, CS3 & CS4
Pattern Generator Actions (Set 2)
A collection of 424 Actions which create 1,440 pattern variations out of a single source image. For Photoshop 6, 7, CS, CS2, CS3 & CS4
Pattern Generator Actions (Set 3)
A collection of 424 Actions which create 1,440 pattern variations out of a single source image. For Photoshop 6, 7, CS, CS2, CS3 & CS4
OTHER PRODUCTS
Layer Style Contours (Set 1)
A collection of 300 Contours which can be used to extend your Layer Style effects for Photoshop 6, 7, CS, CS2, CS3 & CS4