Channel Mixer Collection
A collection of 117 Channel Mixers to produce color effects for any of your images. For Photoshop 6, 7, CS, CS2, CS3 & CS4 (Win & MAC compatible).
Channel Mixers provide an instant way to change the color of your images. Simply load the mixer in an adjustment layer, and watch the image take on a new color.
Here is the Original Image:

Here are some of the Color Swap Mixers:
Use these mixes when you want to swap colors around within the color wheel.
Here are some examples of the Sepia Tone Mixers: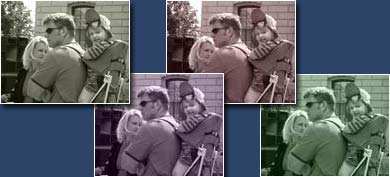 Use these Channel Mixer presets as they are, or use them as the starting point for your own mixes. Any way you use them, there are plenty here to get your feet wet. And you don't need to be a master Photoshop wiz in order to use them.
What's Included?
6 Black & White Mixers *
20 Color Swap Mixers *
8 Deep Color Mixers *
10 Enhancer Mixers *
11 Flat Color Mixers *
9 Gold Mixes *
12 Neon Mixes *
4 Color Seperator Mixes *
21 Sepia Tone Mixes *
3 Soft Color Mixes *
13 Various Mixes *
*
These files were previously sold on my "Complete Collection" CD