The Photographer's Action Toolbox
A collection of 112 Actions for Photographers for Photoshop 6, 7, CS, CS2, CS3 & CS4 (Win & MAC compatible).
Improve photos, add artistic effects, sketch effects, Graffitti effects, Shadows, crayons, painterly actions. Also includes Quick Displacement Map actions, a Color Schemer set of actions to produce color combinations for your projects, an Image Sharpening tool, and some pattern and design effects, such as sphere creators, and rotation effects.
An example of the Underexposure Correction action: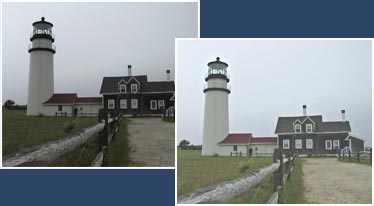 Actions that produce Artistic Effects: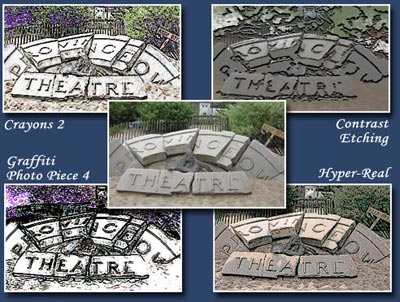 Quickly create a Color Scheme for any project: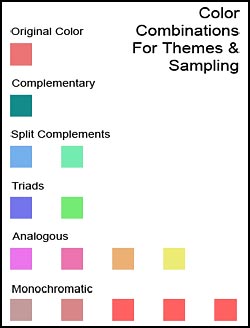 These actions are great for anyone who is a Photographer or needs to touch up their photos. Whether you are a professional touching up your photos for gallery display, or an amateur touching up that photo of the family dog. These actions are for you!


Like having your own set of digital darkroom tools at your fingertips. Use these actions to apply quick corrections or effects, or as the starting point for your own artistic masterpiece.
Simple and hassle-free Displacement Maps:

More Photo Effect samples:
What's Included?
Photographer's
Toolbox Set:

Watermarking your Image
Red Eye Correction
Warm Shadows *
Cool Shadows *
Soft Blur *
Underexposure Correction *
Color Cast Correction *
Graduated Filter *
Smart Sharpen - Lab *
Smart Sharpen - Luminosity *
Smart Sharpen - High Pass *
Auto Corrections *
Better Grayscale Conversion
Faux Infrared Conversion
Create Swatches from Image
Horizontal Split Left
Horizontal Split Right
Vertical Split Top
Vertical Split Bottom
Offset & Center any Image
Offset, Center, Rotate & Flip 1
Offset, Center, Rotate & Flip 2
Load All Adobe Presets (PS6-Win)
Load All Adobe Presets (PS7-Win)
Load All Adobe Presets (PSCS-Win)

Other Action Sets:

Image Upsize & Sharpen (1 Action)


Color Schemers (6 Actions)


One-Step Displacement Maps (15 Actions)


Image Reflections (4 Pattern Actions)


Photo Artbox (25 Actions - Graffitti, Plastic Doll, Blown Out, Andy Warhol Silkscreen, Cartoon, Dark Cartoon, Jazz Style, Art Deco, Hyper-Real, Ghosting Edges, Thick Line Painting, Chrome Painting, Plastic Painting, Contrast Etching)


Photo Artbox 2 (25 Actions - Double Image Exposures, Etched in Stone *, LiteBrite *, Crayons *, Linotypes *, Dream Painter *, Dark Painter *, Crosshatch *, Water Spots *, Zebra Stripes *)


Extras Action Set (6 Actions - Tiler *, 3 Sphere Actions *, Pattern Ball Maker *, Rotate Anything 360/10 *)
*
These files were previously sold on my "Complete Collection CD"