Complete Collection DVD
Order my entire collection on a single DVD. Works with Photoshop 6, 7, CS, CS2, CS3 & CS4 (Win & MAC compatible).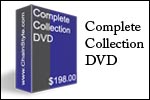 Why buy each product individually when you can have my entire collection on a single easy-to-use DVD. No more fumbling to find out where you saved those files. Now it's all here! And if you purchase now, you save over $100 on my products! Note that due to the nature of this sale, I cannot provide any discounts on this purchase.
Please note that you MUST have a system that can read DVD media.
What's Included?
Photo Tools
Photo Frames
Styles & Patterns
Pattern Generator Actions
Color Products
Brushes & Custom Shapes
Layer Style Contours
Text Effects
Price: $198.00